This post may contain affiliate links. The Review Wire may collect a share of sales if you decide to shop from them. Please see my full disclosure policy for details.
We would also like to mention the following companies that help support the cause!
Leggiadro: Viscose & Lycra Crew Neck 3/4 Sleeve Tee Shirt. The tee is a fuxia leopard print pattern printed in Como in a viscose lycra blend with a ¾ length sleeve. 25% of the proceeds from the sale of the shirt will go directly to BCRF. BCRF is dedicated to preventing breast cancer and finding a cure in our lifetime by funding clinical and translational research worldwide. For more information about BCRF, visit www.bcrfcure.org. Cost: $275 Donation organization: The Breast Cancer Research Foundation. Visit www.leggiadro.com for more information.
WordLock – has created a unique or commemorative line of pink and silver padlocks to help raise awareness for breast cancer and benefit research efforts. Each pink and silver Wordlock Padlock is adorned with a pink ribbon decal, the international symbol of breast cancer awareness. The Wordlock Breast Cancer Awareness Padlock retails for $9.99 and is available through Amazon.com
BORRACHA – Fighting breast cancer, one bottle at a time! For the month of October, BORRACHA will be donating $2 for every $25 Borracha "CHEERS TO A CURE" set, which includes a limited-edition Syrah blend paired with the line's signature Wine Wipes, to The Breast Cancer Care Program at Marian Medical Center in Santa Maria, CA.
POMEGA – Biodynamic and organic skincare line POMEGA will be donating 10% of proceeds from sales of ALL Pomega5 products in October (BCA Month) and November (Pomegranate Month) to the CA-based To Celebrate Life Breast Cancer Foundation.
STRIPT WAX BAR – This company will be offering an exclusive Think Pink Pumpkin Facial during the month of October and 20% of proceeds will be donated to The Women's Cancer Resource Center in Oakland, CA. So if you live in Oakland, CA, be sure to stop by!
NowhereHair – If you ask me, one of the things any mother needs after a cancer diagnosis (if she has children at home) is guidance on talking to her kids. Because this will truly relieve a heap of stress for the child AND the parent. Nowhere Hair explains a cancer diagnosis of a loved one to young children, ages 3-7. Author Sue Glader wrote the book from personal experience with a breast cancer diagnosis 10 years ago when her son was little. Sue has donated books to cancer organizations across the U.S.
Cleavage Creek Wines – Dedicated to fighting breast cancer, Cleavage Creek donates 10% OF GROSS WINE SALES to breast cancer research. Over $72,000 has been contributed to date to efforts to fight breast cancer. Most recently, Cleavage Creek has FUNDED A NEW INTEGRATIVE ONCOLOGY RESEARCH CENTER FOR BREAST CANCER at Bastyr University. On each bottle of Cleavage Creek is the image of a breast cancer survivor — her story is told at the Cleavage Creek website. CARSON DALY'S mom Pattie Daly Caruso appeared on 2 bottles of Cleavage Creek wines in 2007. Former _Entertainment Tonight_ producer Noreen Fraser is on one of the latest bottles. These ladies are not paid to do this, but they lend their time and experiences to fight the disease. A total of 20 breast cancer survivors have appeared on the Budge Brown era of Cleavage Creek wines. Cleavage Creek wines range in price from $18 – $50 per bottle.
Red Leaf Papers – offers three invitations that are a part of Breast Cancer Awareness. They are more than just pretty in pink! These invitations are vibrant and feminine, but also support a good cause. A portion of the profits generated by these invitations goes to support the Pink Initiative. The Pink Initiative is an organization comprised of wedding industry professionals, as well as private donors, who are dedicated to funding awareness, outreach, education font-family. The invitations start at $47 for 25 and are digitally printed on medium weight cardstock.
Javaandco.com – When items are purchased from this collection, 20% of the gross profits are donated to support Breast Cancer Awareness and the search for a cure. Last year, funds were donated to the Susan Komen Foundation.
Healing With Words: A Writer's Cancer Journey– this book is a unique, compassionate story written by a nurse, author, and mother of three, who at the age of forty-seven found her life shattered by a diagnosis of bread cancer with DCIS with invasion. Five years later she was diagnosed once again to yet another, seemingly unrelated and incurable blood cancer multiple myeloma. The book includes the authors' experiences, reflections, poetry, journal entries, in addition to writing prompts for readers to express their own personal stories.
The Pink Bra Initiative that Anita International (124-year-old European bra manufacturer) and Susan G. Komen have partnered up. The bra is specifically designed for mastectomy patients and $5 of each purchase will be donated to Susan G. Komen. Anita International specializes in bras for the large-breasted woman as well as all support garments for breast cancer patients to help them from discovery to recovery.
ATP Electronics: Petito – Pink Ribbon Special Edition Flash Drive: Ultra chic USB 2.0 Flash Drive for fashionistas! Wear it as your necklace or put it on your keychain. Added bonus – it's waterproof! 10% of the sales of this product will benefit Susan G. Komen for the Cure and its fight against breast cancer. NO LONGER AVAILABLE
HopeinBloom.org – sells jewelry and notecards that helps to fund gardens for breast cancer patients.
Clutter Clearing Choices: Clear Clutter, Organize Your Home & Reclaim Your Life – Author Barbara Tako was diagnosed with Breast Cancer this past spring. She has undergone chemo and moving onto radiation soon. Barbara will be donating a portion of her proceeds to breast cancer research and awareness.
Maison Bertet– is an interior design/home decor store based in West Hollywood. They have created a pillow for the Noreen Fraser Foundation where 15% of the sales will go towards the foundation in September & October. The Noreen Fraser Foundation is an organization with a specific focus on raising funds for translational cancer research aimed at developing new prevention methods, diagnostic tools, and non-toxic therapies to treat women's cancers.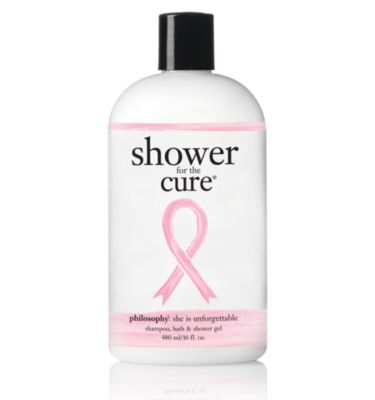 Philosophy, Shower for the Cure – Philosophy donates 100% of the proceeds to the Women's Cancer Research Fund.
Hug Wraps – With a donation to cover the cost of materials shipping Hug Wraps are given to patients in treatment. The Hug Wrap is a much prettier alternative than a hospital gown. Brenda Jones knows first hand as she is a Breast Cancer survivor and diagnosed in 2008. Brenda has made over 350 wraps and I think it's amazing!
Madcapz – will be donating 15% of October website sales to breastcancer.org, an organization that raises breast cancer awareness by providing patient support, information, and research on breast cancer. Madcapz are fun unique caps and visors that can be worn every day. Plus, these caps are $19.99 and made right here in the good 'ole USA!
Cancerclub.com – is a great resource for anyone dealing with cancer. Whether you are a patient, survivor or care about someone battling cancer, this is the site for you! Since 1995 CancerClub.com has donated over $1,000,000 to breast cancer research by people like you purchasing from their shop!
BleachSafeHome.com – will be donating 5% of the proceeds on all towels sold to the Dr. Susan Love research foundation, and her fight against Breast Cancer.
Panera Bread – On October 1st, Panera will donate 100% of all Pink Ribbon Bagel sales to the American Cancer Society of Southwest Ohio. For the rest of the month, our Cincinnati and Dayton locations will donate $0.10 for every Pink Ribbon Bagel sold to assist in the fight against cancer. This bagel, baked in a distinctive ribbon shape and studded with cherry chips, real Bing cherries, and cranberries, is a delicious way to help all of our neighbors. Please join us in support of the American Cancer Society's mission of education, awareness, and research.
BloomDesigns.com – Pink, incorporates the classic Breast Cancer awareness ribbon into box stationery, magnet pads, and travel mug designs. A portion of all proceeds is donated to the National Breast Cancer Foundation.
SewSister.com – The "Ethel" mastectomy bra sells for $11 for in-store purchases only. $1 of each sale of the $11 bras goes to the Breast Cancer Research Center. SewSister.com has also donated 66 mastectomy bras to the BCRC!
Ashton-Drake Galleries – is a producer of fine collectible dolls, and have a special line of breast cancer awareness dolls. The company donates a portion of the proceeds from these baby and child dolls to breast cancer research charities. The dolls are handcrafted from high-quality vinyl and/or resin.