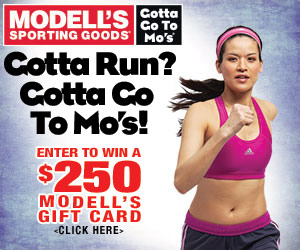 Modell's Giveaway
In celebration of Modell's Sporting Goods new expanded women's product line, they're holding a contest where you can win $250 in gift cards to get the product you need to get fit in time for summer.
All you have to do is submit your name, zip code and your email address to be entered into the contest.
Everyone Wins! Once you enter the contest, you're given a coupon for $10 off $50 to shop today!
Modell's has great deals from Under Armour, Nike, adidas, Champion, Sketchers, New Balance, Asics, and Saucony.
Stores located in- New York, New Jersey, Pennsylvania, Connecticut , Rhode Island, Massachusetts, New Hampshire, Maryland, Virginia and Washington DC
Click HERE For Your Chance To Win!
This article contains affiliate links. By clicking through you are supporting The Review Wire and we Thank You!